The Telehandler: One Tool for All Jobs
Picking the right tool for a project can often be a difficult decision, and in many cases, it seems impossible to settle on just one. This can often be caused by uncertainty regarding the potential applications of various choices. However, safety concerns also play a large part in deciding what to use. In the case of heavy machinery, it is important to not only use vehicles that carry a good track record, but to also have operators that have the appropriate training and are aware of the best safety practices.
As an example, let's picture this scenario: you need to move multiple heavy loads off of and onto a truck that is situated on rocky terrain. A forklift will not be adequate for the job, as it cannot perform the horizontal movement required of it, and it does not make sense financially to use a crane. What tool would be the right fit for such a job? You would need something that fulfills the roles of both a forklift and a crane, while also allowing a trained operator to do the task safely. In this situation you might want to look into a telehandler, also known as a telescopic handler.
What is a telehandler?
A telehandler is a vehicle that hosts an extendable boom, allowing it to lift loads weighing as much as 70,000 pounds, and extending as much as 150 feet, depending on the model being used. The boom can also usually reach as much as a 70-degree angle from the ground. The telehandler in its current form was first created in 1977, and was an amalgamation of a backhoe, crane and forklift. Originally it was used in two-wheel drive, but with the vehicle's quick rise in popularity, a four-wheel version was soon released. Telehandlers were predominantly used for agricultural purposes, such as moving hay bales. Nowadays, telehandlers are also used on construction and mining worksites, and are appreciated for their multifunctionality.
Telehandlers are the swiss army knife of the heavy machinery world, as they offer a large amount of utility during any season of the year. Whereas something like a forklift can only perform a single type of job, a telehandler can be outfitted to complete a wide range of tasks. Many of these tasks are determined by any of the various attachments that can be equipped to the machine.
Some of these attachments include:
Buckets
Carriages
Forks
Hoppers
Jibs
Plows
Work platforms
The most common attachments tend to be the pallet fork and the bucket. The pallet fork is used because it is quite common for a telehandler to be used instead of a forklift, when moving loads to places that a typical forklift would be unable to reach. Similarly, a telehandler equipped with a bucket is meant to accomplish a difficult task that a loader would normally perform.
Based on the attachment, a telehandler can perform actions like:
Moving earth or debris in order to clear a space
Hoisting workers to perform repairs
Lifting heavy loads that are too high for a forklift
Plowing snow
Loading salt gritters
Telehandlers are also excellent for use in areas with uneven ground, as this can be difficult to deal with when using a crane. A telehandler would be handy to have in the situation with the truck surrounded by rocky terrain, mentioned earlier! The type of telehandler you choose, should be decided by the type of job it needs to do.
What types of telehandlers are there?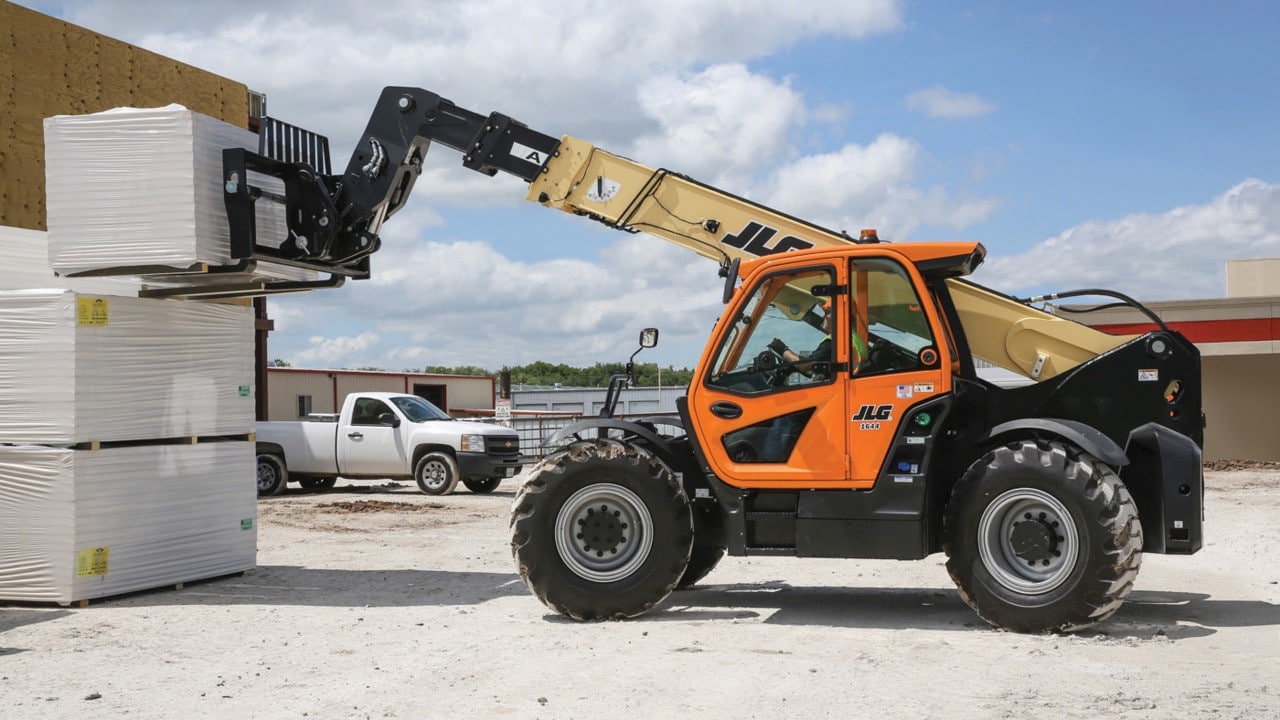 There are two main categories of telehandler, each with variations that perform well in different aspects.
They are:
Non-rotating
Standard Fixed Boom – agriculture and construction

Average reach and carrying capacity
Rotating (Roto Telehandler)
Standard Rotational – focus on construction
Heavy Lift – focus on mining
Telehandlers consume diesel, and are typically controlled using one of three steering options.
These are:
Crab – around hills and walls
Four-wheel – for tight/difficult areas
Front-wheel – for roads
Although originally pioneered by the company JCB, which is well known for their iconic telehandlers, there are several brands of telehandler that are well respected.
These include brands such as:
Telehandlers are often referred to as "Lulls", based on a declining variation that came into being in 1959. Lull telehandlers were eventually acquired by JLG, but have been discontinued as of 2015.
What else should I be aware of?
While there are many reasons to use this machine, telehandlers do have a few nuances that you should be aware of. Firstly, the maximum load that a telehandler can safely manage is largely determined by the extension of the boom. Heavier loads are safest at smaller extensions, and lighter loads are best at longer extensions. The type of attachment being used and the wind speed in the surrounding area can also both affect how far the boom should be extended. There are some telehandlers that come equipped with stabilizers that can be used when the machine is not moving, and most vehicles will have sensors and a computer that can inform an operator of danger. However, it is of utmost importance that anyone operating this machine has the appropriate telehandler training.
Are telehandlers safe?
As with any piece of heavy machinery, safety is largely determined by people's knowledge and actions around the machine. Telehandler training is imperative to becoming a responsible and effective operator, so that everyone remains safe, and precious time and resources are not wasted. In the case of telehandlers, there are several precautions that trained operators should take.
Operators should:
Completely understand what the machine is capable of by looking at manuals, understanding signage, and analyzing the controls
Reference the appropriate regulations for the location
Always inspect the machine before operation begins, so that machines that are not working properly are not used
Be aware of all potential hazards on a worksite, such as weather, etc.
Adjust mirrors to help in being aware of other nearby workers
Pay close attention to carrying capacity, by referencing the specific vehicle's load chart
Wear a seatbelt, and never jump from a tilting machine
Due to the nature of the telehandler, tilting can become an issue if the proper load to extension ratio is not adhered to. Operators should also be aware of inclines at all times and ensure that anyone on a work platform attachment is properly secured. An operator should never attempt to drive a telehandler while the boom is raised. By ensuring that the boom is lowered, the centre of gravity of the vehicle will also be lowered, allowing for more stability. If there ever comes a point where moving the telehandler becomes difficult without raising the boom, then the use of a telehandler for that specific job should be completely re-evaluated. It is also important to note that travelling with a load that is suspended should be avoided. There are many incidents that occur due to this. Any instance that requires a telehandler to travel with a load in suspension must be carefully planned and documented in a "lift plan". The appropriate procedures to follow when operating a telehandler can easily be learned in an online course.
Looking for a telehandler course?
When working with potentially dangerous machinery it is important to have the right training. Any operator should learn to maintain full control of their equipment while complying with the regulations and laws governing its operation. With training, an operator will understand the legislated responsibilities and learn how to identify the components of the equipment and their functions.  The operator will also know how to travel with, and handle loads safely. It can be difficult finding good telehandler training online, but this telescopic handler operation course should do the trick. This telescopic handler training will provide you with a telehandler certification, that will demonstrate that you have the knowledge to safely operate one of these powerful machines!
[apss_share]